Rotterdam Rooftop Walk
Air bridges between rooftops and an exciting vision on the future of cities worldwide
A month of spectacular sights in Rotterdam: experiencing how rooftops can contribute to a better future for cities, from 26 May to 24 June 2022. Tickets will be available from May 5th onwards.
Events on rooftops are no new feat for Rotterdam, but 2022 will see more people than ever visit the city's 'roofscape'. Besides the annual festival of the same name, Rotterdam Rooftop Days will present the Rotterdam Rooftop Walk – a route that covers different rooftops within the city centre and connects iconic buildings on the Coolsingel. The design is a collaboration with MVRDV Architects. Visitors can cross a specially designed air bridge across the city's best-known street for a full month (the first visitors will take to the roof on Ascension Day), but the experience features much more than unique sights alone. While walking across and between rooftops, visitors can experience how innovative rooftop use will contribute to a brighter future for cities and city-dwellers worldwide. Rotterdam features over 18 km2 of roofscape, mostly unused. While the walk takes visitors to great heights, admission prices will be low: adults pay a small amount and children will visit for free.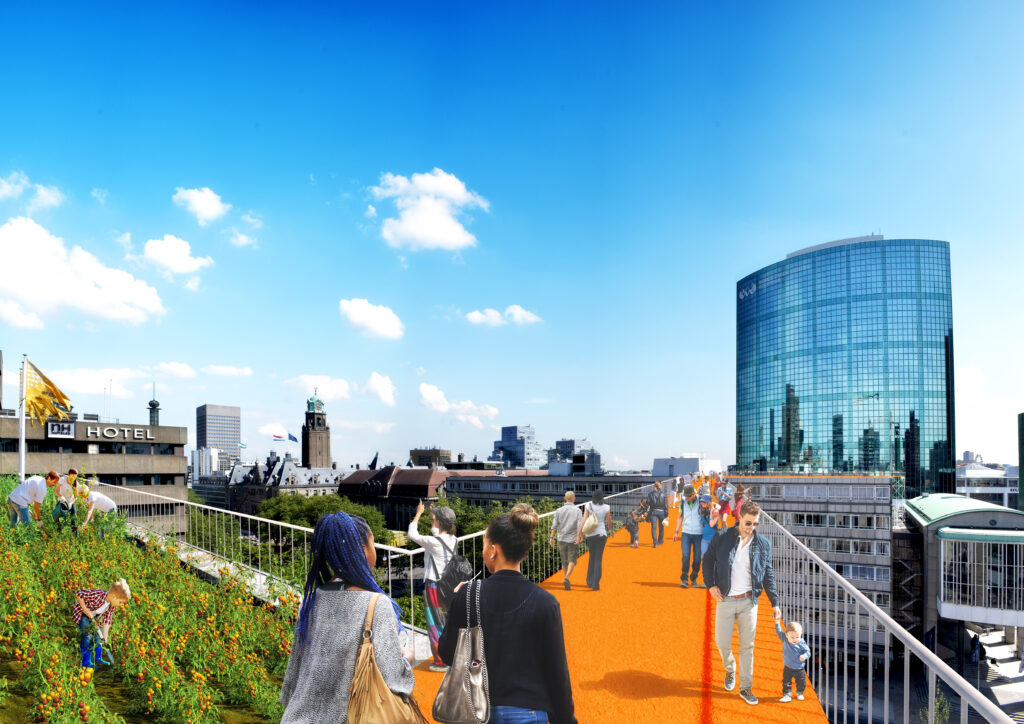 Together with the municipality of Rotterdam and many more partners, the organisation will present this large event next to their existing rooftop festival. Companies and NGOs will show their latest rooftop innovations in green roofs, energy transition, water retention, rooftops as public space and more. Together with contributions from the arts and sciences, these will form a manifestation of innovative rooftop use and a vision of a possible future for cities utilising their roofscape to the fullest. This programme addresses many of the great challenges facing cities in the near future, from shielding inhabitants from the effects of climate change to creating safe and vibrant public spaces in ever-crowding urban areas.
Rotterdam Rooftop Walk will take place during the annual Rotterdam Architecture Month, when the innovation and quality of architecture in the city is celebrated with festivals, exhibitions and more. The design builds on a tradition of large audience events at great heights in the city, such as 'The Stairs' in 2016. This design from MVRDV was realised as a temporary intervention during 'Rotterdam celebrates the city!', the manifestation commemorating 75 years of rebuilding since the WW2 bombing.
Images: MVRDV